Welcome to our knowledge centre

Our latest tools, insights, whitepapers, articles, models and industry thoughts.
______________________________
Why COVID is not a valid excuse for poor service anymore
The year has given us a unique opportunity to see how the best brands have responded to Covid-19 and the impact on their customer experience, and equally, to observe some of the worst. So, as we near the end of 2021 we thought we would share some examples of where customer experience is working, and where it is not, and suggest what brands may need to focus on in 2022 to win.
"You may experience long waiting times to access our customer services department due to Covid-19. Please call back at a later time or use our web site". I am sure you have experienced a very similar message if you have attempted to call your telecom provider, energy supplier or bank this year. This may have been excusable at the beginning of the pandemic, but it is no longer acceptable. Large brands are simply conning us. Money Mail recently published a survey in which they concluded '50 major firms still blaming long call-waiting times or reduced opening on Covid'
A perfect example of this is National Savings and Investment (NS&I) who recently made the decision to stop issuing cheques as payment to holders of winning Premium Bonds. In future, they will only pay by on-line transfer into a bank account. Many of their elderly customers typically used postal or branch banking rather than on-line, and so tried to call the NS&I contact centre to make the change only to be greeted by a message advising them not to call unless you 'absolutely have to' because of long wait times and not to post anything to them. I realise that businesses are facing huge operational difficulties, a lot of their staff were furloughed and many are still in danger of going under nearly 2 years on, but the fact is that the best brands are managing in spite of this.
The retail sector has been a bit like the 'curate's egg', good in some areas, rotten in others; booming online but suffering in the high-street. Amazon has seen a massive increase in demand and yet its service levels are close to what they were last year, and it remains near the top of customer satisfaction tables. Doug Gurr, Amazon's UK Country manager recently wrote to customers saying, "We've added 10,000 new permanent roles and 20,000 seasonal positions to our team to help get you your items on time. The wellbeing and safety of all of our employees continues to be our top priority, which is why we have made more than 150 process changes to create safe workplaces" Have a look at this video Amazon have shared.
The banking sector has behaved, as it generally does, by being self-serving. Despite the Government loan schemes most of the banks have been slow to lend and quick to decrease their deposit rates. There are some notable exceptions, First Direct Bank, has achieved the highest levels of customer satisfaction and loyalty over many years. Shortly after Covid hit they published this notice on the home page of their web site; 'We're still available 24 hours a day, 7 days a week. first direct hasn't closed once since we opened, and we don't intend for coronavirus to change that. You will still also always get through to a real human first on our main line, without having to press 1 for this and 2 for that.' They followed this up by halving their interest rate on overdrafts whilst some competitors, like Lloyds, were busy doubling theirs. First Direct used the pandemic to reaffirm their brand promise and dramatise their point of difference. Great brands see crises as an opportunity to focus on what is most important for customers.
Some brands have gone beyond that and used the opportunity to exceed customer expectations despite the difficulties. As an example, "Due to COVID and our commitment to you, we are shipping your order on time or ahead of schedule" How many times over the past few months have you received this message? Zero, is my guess. Yet this is precisely the brand promise that US company, ScreenBroidery is making to its customers. Unlike so many other organisations, its stance is not to use the excuse of Covid for bad customer experience. Tom Rector, founder of ScreenBroidery, is taking a stand that this is a time to delivery better service, not worse. His company is trying to differentiate itself by exceeding expectations. You can read his blog to customer and employees on their web site, 'Covid is not an excuse!'
One of the hardest hit sectors is the hospitality industry. In the mid-scale/budget sector, Premier Inn, has bounced back quickly from the lockdown. It has introduced flexible rates and bookings to allow guests to quickly change their plans if required. Reporting their first half 2021 results they said "Since reopening, UK accommodation sales performance has been ahead of the market, benefitting from the fast reopening, the strength of the Premier Inn brand and our leading customer proposition ". The fact is that brands that focus on enhancing the customer experience recover faster from downturns according to research by WPP/Kantar. (BrandZ. Top Global Brands 2020).
Finally, we have all seen the impact of Zoom and virtual meetings on organisations. People have quickly innovated new ways of working and improved efficiency so why can't organisations bring that same agility and innovation to their customer service and actually improve the experience.
So, what can we learn from 2020/21 and apply to the experience we provide in 2022?
Reflect

on your

Brand Purpose

and how it can be applied innovatively to meet the new situation.

Reinvent

your Customer Experience. Review your customer journey and ask how you can enhance the experience at 'the moments that matter' whilst still complying with regulations. What can you do to dramatise and deliver your brand Promise despite the challenging circumstances as First Direct did?

Reboot

your organisation

and rethink your Employee Experience. Introduce new technology and innovate processes that help you to deliver a branded customer experience
The fact is that customers have long memories, and they will remember the brands that made excuses not to deliver, and those that used the opportunity to make their lives easier or better. When everyone else Zigs, the best brands Zag. If you would like to have a chat to see how we might help you Zag, please contact us.
Covid-19 may go away but the need to differentiate through your customer experience never will.
References: Amazon, First Direct, Tom Recktor, Screen Broidery, Premier Inn, NS&I, Shaun Smith, Smith+Co, Caffeine
___________________________________
The importance of review websites
As we all know, review websites such as TripAdvisor and TrustPilot can make significant impacts on your business. Reviews are published everywhere, on Google, Facebook, Amazon and many other places, it is important to not take this concept lightly.
But how important are customer reviews to shoppers? Very important, as it turns out. The fact is, 90% of consumers read online reviews before visiting a business. And 88% of consumers trust online reviews as much as personal recommendations.
For nearly 9 in 10 consumers, an online review is as important as a personal recommendation.
Customers are likely to spend 31% more on a business with "excellent" reviews.
72% say that positive reviews make them trust a local business more
92% of users will use a local business if it has at least a 4-star rating
72% of consumers will take action only after reading a positive review
Reliability (27%), expertise (21%) & professionalism (18%) are the most important reputation traits for a local business
Estimated Number Of Online Reviews Customers Read Before Trusting A Business
| | |
| --- | --- |
| Estimated number of reviews | Percentage |
| | |
| 0 | 8% |
| 1 | 3% |
| 2-3 | 24% |
| 4-6 | 32% |
| 7-10 | 18% |
| 11-20 | 8% |
| 21-30 | 3% |
| 31-40 | 1% |
| 41-50 | 1% |
| 51+ | 2% |
86% of people will hesitate to purchase from a business that has negative online reviews.
On average, a one-star increase on TripAdvisor leads to a 5% to 9% increase in a business's revenue. At the same time, a single negative review can cost a business about 30 customers.
How To Deal With Negative Reviews
When you receive a negative review, here's what you should do:
Respond Promptly
Be real and admit your mistakes
Correct inaccuracies
Highlight your strengths
Write like a person, not a corporation
Take the conversation offline
Provide restitution if it's warranted
Ask loyal customers to share their experiences
Be consistent
Understand How Rating and Review Sites Work
At DAP Consultancy, we have over 10 years of experience working with review websites such as TripAdvisor, TrustPilot, Google and many more. We significantly increased Cafe Rouge restaurants TripAdvisor scores across 78 restaurants, by improving service levels delivered to customers and managing their reviews correctly. Overall, an average shift from 3.5 to 4.7 stars was achieved and earning 24 individual certificate of excellence awards. We also increased the TrustPilot score of Virgin Pure from 3.2 stars to 4.5. Contact us today and see what we can achieve for you.
References: TripAdvisor, TrustPilot, Yelp, Invesp, Khalid Saleh
___________________________________
How to deal with data
Data can tell us interesting stories. It can make us more productive, deliver personalised customer experiences and drive innovation. Its power seems limitless. But when there is so much data available, you can run the risk of overanalysing or focussing on the wrong type. So how do you avoid data just becoming a buzzword? How can it start playing a meaningful role in your business?
Let's start with the obvious: data is nothing without a context. It is inert. Only when it is analysed in a specific framework does it become information. This is then processed and internalised by individuals to create knowledge.
In the digital world, this relationship doesn't change. It's up to your organisation to transform this data into knowledge, then action. That's how you get a positive return on investment. Make your data relevant and useful by starting with these steps to create organisational change.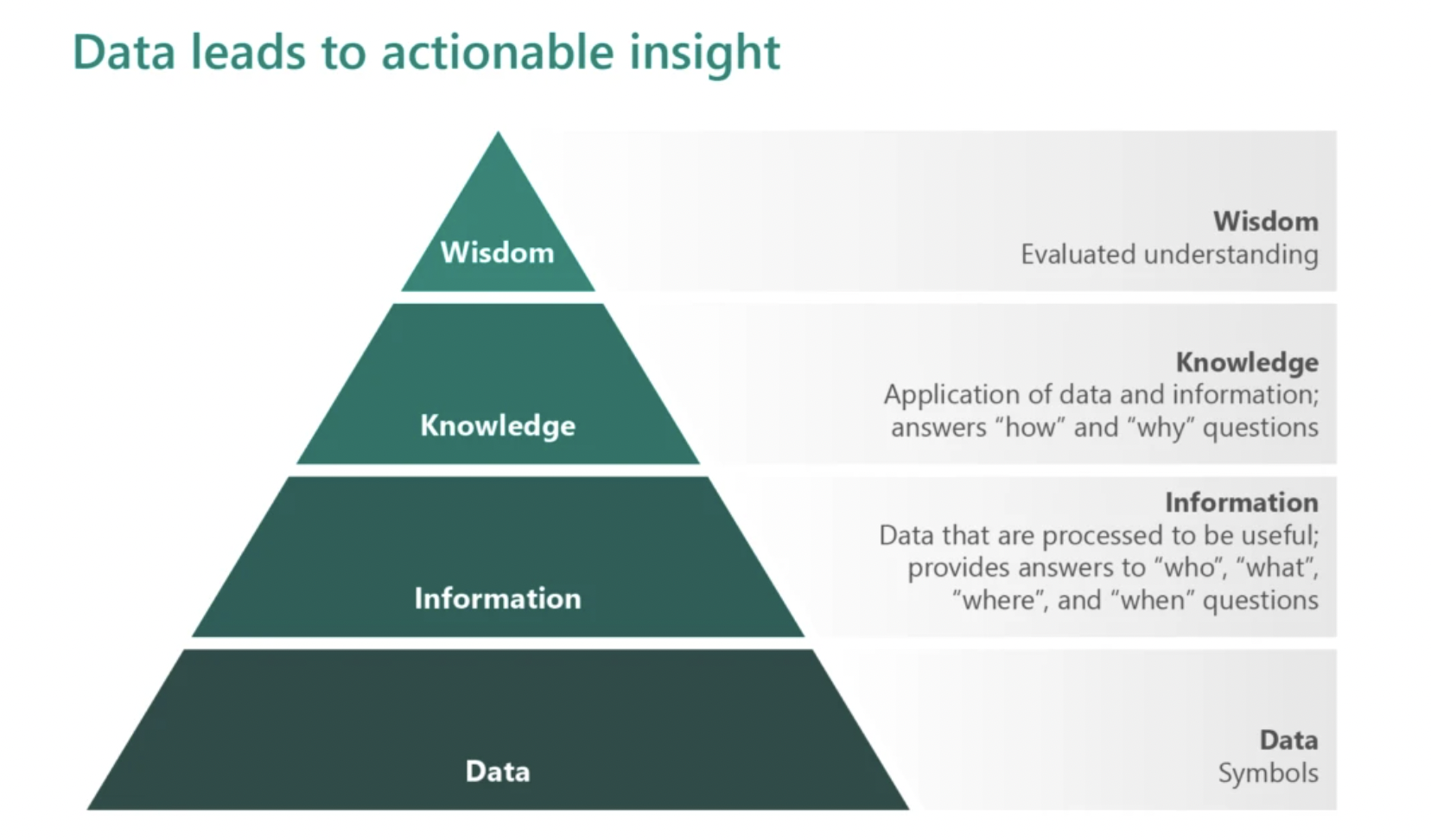 1
1) Set your goals : To harness the full value of data, you need to ensure it is captured accurately, with the end goal in mind. So, the first step should be setting your goals. Your data strategy will depend on the business problem you're trying to solve and the environment you work in. This will lead to better understanding the factors and variables of your analysis. Executive buy-in will be the key to success. Ensure you on-board your organisation's leaders early so you have the right engagement from all stakeholders along the process.
2) Plan, plan, plan : As you grow your ambition of leveraging insights to benefit the business, you need to ensure you have an effective data strategy and management plan. This includes how the data will be stored and managed. You need to ensure accessibility without sacrificing security, all while aligning to current policies and regulations. Also, you need to define a data governance maturity model, including data classification and compliance policies. See here for more information and a helpful guide from Microsoft.
3) Keep security at heart : As mentioned, you need to ensure your data is kept safe when stored, managed and in transit. With intelligent security, you can empower your organisation against cyberthreats with machine learning and automation.
4) Democratise data skills : You must ensure your whole organisation has the skills to understand data. To take advantage of new information, insights and resources, everyone needs to understand how to use data effectively. This will help build an accessible knowledge network, plus improve services and customer experiences. It's not an easy task. But building a data skills learning plan is vital to get the best out of data and to empower employees. The Forrester report on Why Digital Literacy Matters goes in-depth on how to spread data literacy.
5) Build a feedback loop : To ensure your data insights stay relevant and agile, implement a change control process consistent across the organisation. Keep verifying your data strategy against your business plans, goals and with your executive sponsors to ensure you're heading in the right direction. Be ready to adjust. Flexibility and speed of change will determine the difference between frustration and success.
Weave data throughout your organisation : Ultimately the power of data is directly correlated to your strategy and your people. Data doesn't belong in a different realm. It doesn't belong to one team or silo. On the contrary, it needs to intertwine with business processes, stakeholders and policies. It needs to reach across business silos and connect together to surface the right information, at the right time. Make sure you embark on the journey as an organisation. The response from this empowerment will surprise you.
References: Microsoft, Krizia Ceccobao, The Forrester
___________________________________
___________________________________
We've increased revenues, customer loyalty and customer satisfaction scores of start ups, small to medium size enterprises
and large scale multi million pound corporations.
See what our expert knowledge and solutions could do for you...